SEED Hub Boutique Hotel
Based in the ancient lands of Somerset, this beautifully refurbished 17th-century alehouse in the small historic town of Wincanton has been restored and tastefully designed by Lynne Franks as a one-stop haven offering naturally healthy solutions to the stress, pressure and health challenges of modern life.
 Our Hub is in the heart of Wincanton and is just up the road from trendy Bruton and world-famous The Newt and Hauser & Wirth – as well as a great stop off the A303 on the way further west to Cornwall. Wincanton is a small market town with a variety of unique and varied boutique shops as well as breathtaking local walks. 
 As we have only four beautiful rooms, we kindly request that full payment is made on booking to secure your room. Rooms are to be reserved online with a valid credit or debit card. If you are unable to attend and wish to cancel your booking this can be done up to 3 days before the due date of arrival via email. If you fail to show without notice, you will still be liable to be charged for your booking.
 Check in between 1pm and 5pm (please let us know when to expect you so we can greet you properly.) We would be grateful if you could check out by 11am to enable us to prepare for our next guest, unless previously agreed.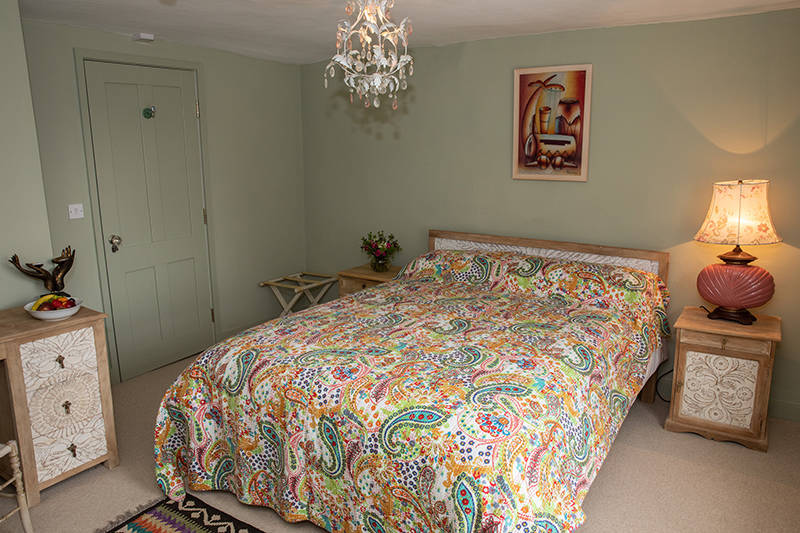 Bloom Eco Bedrooms
You are invited to enjoy our nurturing eco bedrooms with luxuriously comfortable beds that you won't want to leave! All our unique rooms
offer a peaceful and restful stay, whether travelling on holiday, celebrating a special occasion or on business.
Enjoy our natural fibre, fair trade mattress; organic cotton sheets and 'magical' alpaca duvets and pillows. For those here for work, each room has a desk they can work from comfortably. We also offer the option of using the desk in the cafe during your stay.
All our bathrooms have organic cotton towels with natural beauty products provided.
Every room has pure water served in our sacred geometry glassware. We also offer complimentary unlimited organic teas and coffees and fast reliable wifi throughout the whole building.
You can enjoy breakfast in our comfortable residents lounge, where we provide fresh croissants from our local bakery with organic yoghurt, fresh fruit and gluten-free granola, available from 7am. If you have any dietary requests we would be grateful if you could inform us in advance.
Our peaceful bedrooms are called after the flowers that resonate with us as part of our commitment to nature and a natural, nurturing beautiful sleep.
For those interested in longer stays, please email us to discuss the price.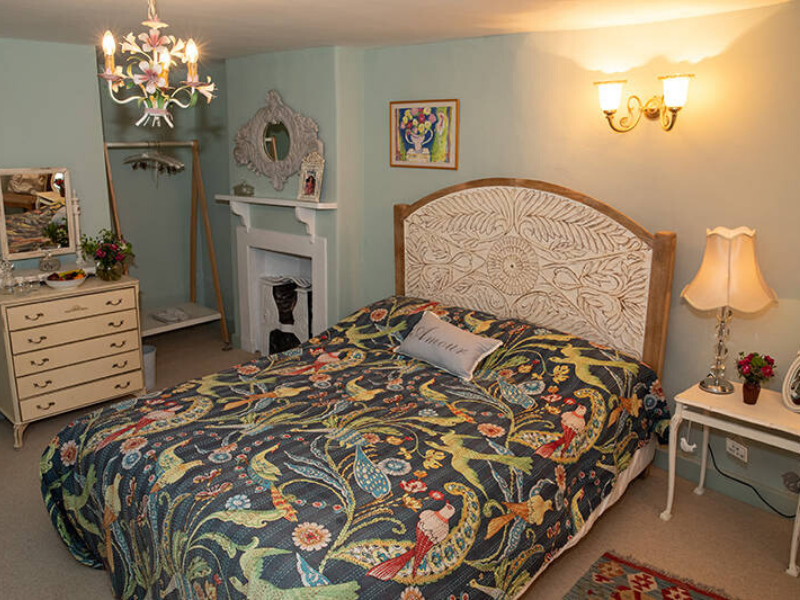 Beautifully decorated vintage-style bedroom with luxurious king size bed and private en-suite bathroom. This charming room has direct access onto the sun terrace.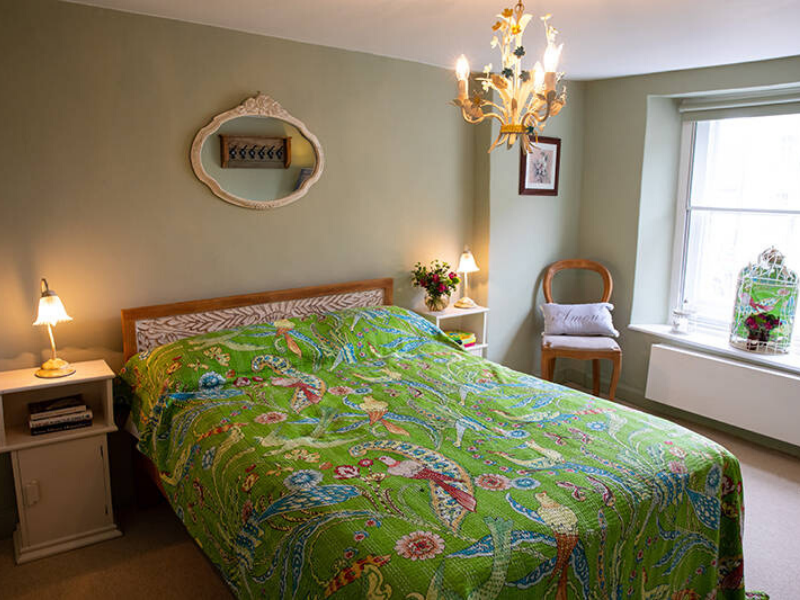 Unique and lovely vintage-style bedroom with a beautiful comfy double bed with en-suite bathroom and access to our 'secret walled' garden a beautiful oasis of peace and tranquillity.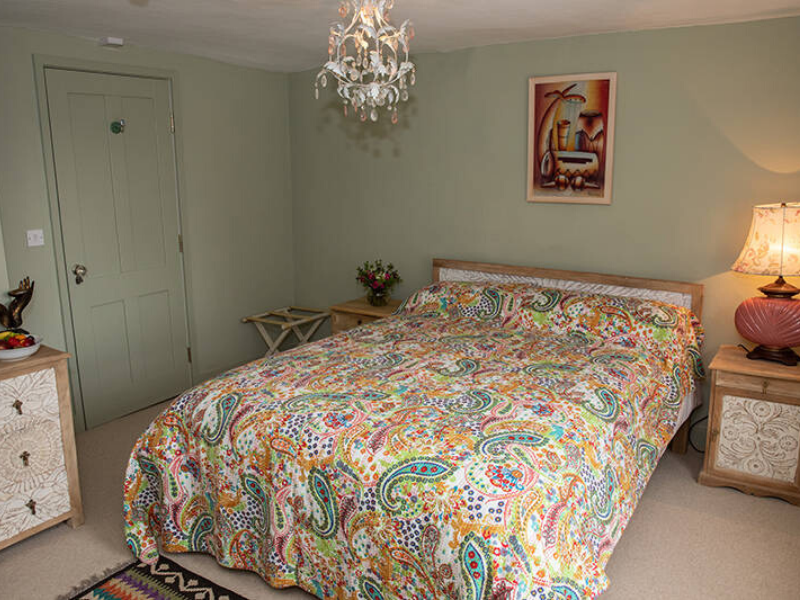 Special vintage-style bedroom with comfy king size bed. With exclusive use of the large bathroom with luxuriously comfortable bath across the corridor.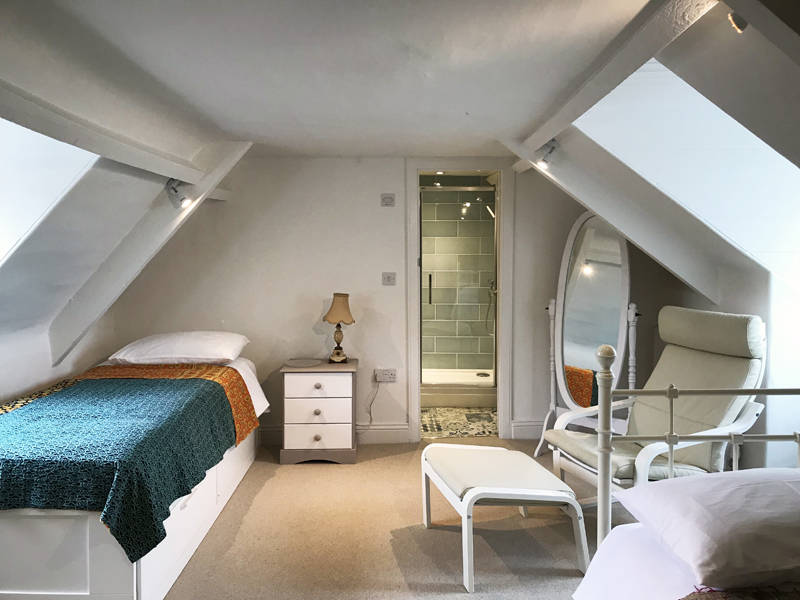 Lovely spacious tranquil attic bedroom with roof-top views approached by traditional winding stairs with comfortable twin beds and en-suite shower room.
"I found the alpaca duvet so comfortable that I slept right through my alarm" – Sophie Heawood, Observer magazine
"It's so relaxing and womb-like here, I confess by the time our nutritional dinner arrives, I am almost asleep" – Christa D'Souza, Daily Mail
"Franks has created a truly wonderful holistic retreat" – Molly Gunn, Red Magazine 
"The rooms are absolutely beautiful and very clean, you won't want to leave!" – Lisa Rowland
"Our bed was like a firm cloud. We have had a palatial night's sleep!" – Matt Sage
"I've stayed there and it's both beautiful and utterly relaxing!" – Marina Cantacuzino
"One of the most comfortable nights sleep I have had in a long time"
– Richard cumbers