The SEED Hub is Lynne Franks' dynamic new concept in bringing women and men together to heal themselves, each other and the planet.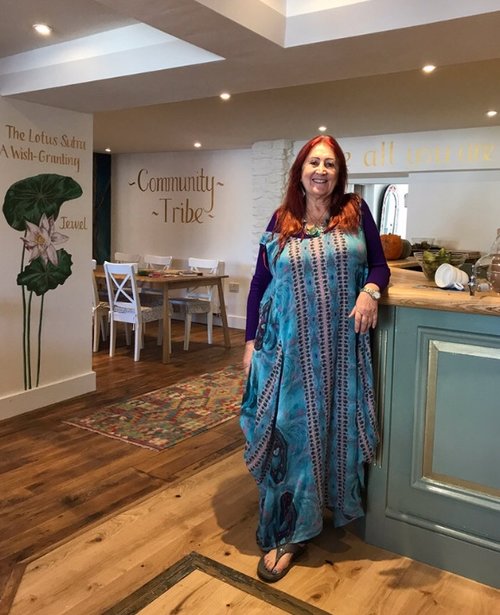 Based in the ancient lands of Somerset, this beautifully refurbished 17th century ale house in the small historic town of Wincanton, has been restored and beautifully designed by Lynne as a one-stop haven offering naturally healthy solutions to the stress, pressure and health challenges of modern life.
The Hub will be holding experiential workshops, one-to-one consultations, holistic treatments and personal development retreats alongside live music, nurturing eco-bedrooms, the very special 'secret' walled garden and delicious plant-based food and organic drinks.
SEED Hub Soul Statement
From the moment our visitors enter through our doors, we are dedicated to their wellbeing through nurture, friendship and connection, creating the conditions for us all to thrive and grow.
Founded by sustainable lifestyle influencer Lynne Franks, we specialise in colour, magic and creativity, encouraging joy and wellbeing into the world.
At workshops, retreats, and gatherings, Lynne and her team take visitors on a conscious journey to create better lives for themselves, their communities and our planet.
Our sustainable vintage, eco-luxurious and nurturing bedrooms delight the eye, the body and the soul while SEED Café serves dishes from local and wholesome resources to heal, nourish and detoxify.  We celebrate life through our uplifting parties spotlighting talented musicians from around the world, spoken word and visionary speakers.
Our SEED store is a local shop with global attitude, specialising in sustainable lifestyle products from holistic entrepreneurs and global co-operatives whose communities benefit from their income.
The SEED Hub is also the bricks and mortar home for the seed community of sustainable women entrepreneurs;  community leaders and wise women and men who base their lives and work on their values of authenticity, transparency and integrity.
The SEED Hub is an inclusive welcoming space for all!
"I want our guests to feel as if they are in my home where they can come to heal, relax, learn, enjoy and have fun before returning home to continue this healing lifestyle, with an understanding of their life purpose and what gives them joy."
– Lynne Franks
"Stumbled across this place by accident today but loved it, especially the Banana bread with a coffee. All very Zen and very smart. Good work!"
— Tim Robins