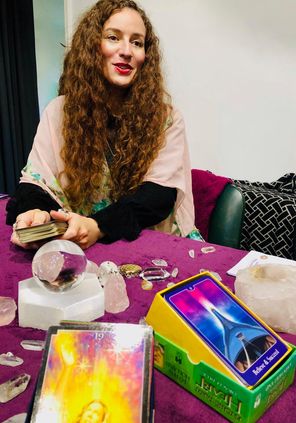 2 day Introduction to the Tarot Course with Jasmine Grace
Tarot Course = Saturday 9th and 16th July
'Enter the magical world of the Tarot!'
Jasmine Grace is a spiritual intuitive, oracle, medicine woman, international teacher and healer. Jasmine has been facilitating intuitive psychic development and spiritual awareness groups for over 8 years. 
This course will be an introduction into the divination quities of the magical tarot.
This course will provide you with knowledge of the 22 Major Arcana Tarot Cards and knowledge of the qualities of the the 56 Minor Arcana Cards. Within each of the four suits of the tarot, Wands, Cups, Swords and Pentacles, there are 14 Minor Arcana cards, including the court cards of each suit. We will also explore other aspects of the Tarot, history of creation of the deck, card spreads, reading the cards for others and more.
No experience needed, all levels of experience welcome. Please join us for a positive and engaging deeper dive into the magical qualities of the Tarot.
How to Book: 
If you have any questions please contact Jasmine. Booking Essential. Everyone welcome! Email: hellojasminegrace@gmail.com Tel: 077 022 985 06. 
Lunch is included in the workshop price.
Early Bird £175.00
Full Price: £222.00
Date/Time: Saturday 9th July and Saturday 16th July. 10.00 am – 3.00 pm.
If you have tarot cards that you would like to bring along to the courses to use, please feel free to do so, tarot cards will be available to use.